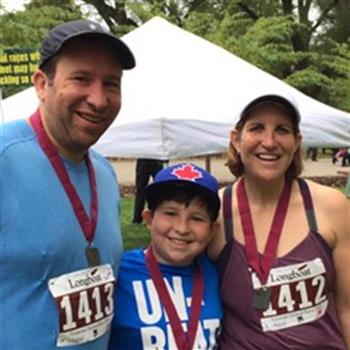 Edit in profile section
Benji's Bar Mitzvah Project: 10km Rock 'n' Roll for Chai Lifeline
Benji Switzman
Hi everyone, its Benji!

For my Bar Mitzvah, I have decided to do something BIG!

I am going to Las Vegas in November to run the 10 km Rock 'n' Roll race AND together with my family raise at least $18,000 for the most amazing organization Chai Lifeline.

My mom Lisa is going to join me and run the 10 km race.

My dad Rob is running the Half Marathon!

Together we are team 'Mindy's Chai Rollers'!

For those of you who don't know Chai Lifeline, they are a great charitable organization that helps families in the most amazing ways, when a child or parent is sick.

Last year, when my Aunt Mindy got sick with cancer they were always there to help her, my Uncle Mike, and my cousins Brayden and Chelsea

They brought meals for them to eat.

They connected Brayden and Chelsea with Big Brothers and Sisters, AND gave them amazing holiday gifts.

They even took Brayden to Disney World, and threw a Birthday Party for my cousin Chelsea

Sadly, my Aunt Mindy passed away last year. My Aunt Mindy was an amazing aunt. I wish she could be here today to celebrate my Bar Mitzvah with me and all my family's celebrations.

Despite our families' loss, Chai Lifeline was always there to help Uncle Mike, Brayden and Chelsea through it. In support of this amazing organization, I am going to train very hard and work my way up until I run 10 kilometres in VEGAS! I will keep everyone posted of my progress.

I really want to make a difference for my Bar Mitzvah project and I need your help! I am asking everyone we know to donate generously for this great cause. Remember, this isn't just for me or my family, but all the other thousands of families who Chai Lifeline helps.

I can't wait until November for my BIG 10 km race for Chai Lifeline!