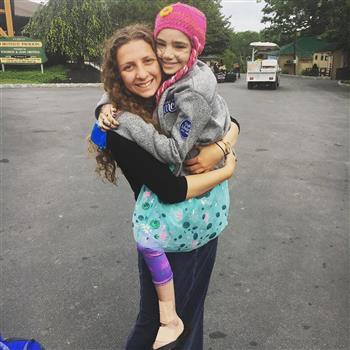 Edit in profile section
Please Support My Run with Team Lifeline in Honor of Princess Ari
Sarah Kaplan
Hey!

You may already know that I'm training to run the Team Lifeline Vegas 10K 2019.

Running a is a personal challenge, but I'm not in this just for the glory. I'm running for something important. I don't want, I NEED to raise money for Chai Lifeline, a wonderful organization dedicated to helping very sick children and their families. I heard about this and I had to do something. However, I know I can't do it alone. I NEED your help.

Chai Lifeline is an international organization that provides year-round emotional, social, and financial support to more than 3,000 children and their families every year. Chai Lifeline's goal is to bring joy to children and hope to their families, enabling them to live full and happy lives despite the presence of illness. Their most famous program is Camp Simcha (and its sister camp, Camp Simcha Special); every year these two camps offer 450 kids a chance to forget about illness and just be kids again. (To learn more about Chai Lifeline, visit its website, www.chailifeline.org.)

I was blessed to build a beautiful friendship with Arianna Dougan through this organization. We met in Camp Simcha a few summers ago and I fell in love with Ari. We made great memories together and kept up throughout the year. I was lucky to have Ari back in camp the next Summer and we had another fantastic experience together. Ari has taught me how to live and love bigger and brighter. I miss her very much. I will run the Vegas 10K this November to Celebrate her life and Spread her Light. Mark, Please help me accomplish my goal.

Because I believe so strongly in Chai Lifeline's work, I've decided to join Team Lifeline. I plan to raise over $10,000 by November 5th and I hope you will help me reach this goal by making a small tax-deductible donation. Your support is a critical part of this effort and I know that together we can make a difference to other children like Arianna and in her honor. All donations are 100% tax-deductible and both the Team Lifeline Facebook App and website make donations quick, easy, and secure.

The Team Lifeline website is easy to use and making a donation will only take a minute, so please donate at my personal Team Lifeline webpage https://www.teamlifeline.org/vegas/sarahkaplan today.

Thank you for supporting me, and in doing so, helping children and their families cope with the diagnosis, treatment, and aftermath of serious pediatric illness.

I look forward to keeping you informed of my progress as a runner.

With much Love and Light,

Sarah

P.S. I hope you will also forward this to anyone you feel might be interested in supporting Chai Lifeline. Together we will make a difference.