Honorary Captain
Sample Event


Join us on sample date
Aviv is a true Chai Lifeline warrior, and we are excited to have him as our Honorary Captain this season!
Aviv's story
In November 2016, Paz and Ziv Scharf got the terrible news that their sweet 8 year old boy, Aviv, had Lymphoma. Beginning January 1, 2017, Aviv began intensive Chemotherapy treatments, receiving the medication for seven days at a time, 24 hours a day. The journey was grueling and Aviv became very grumpy and frustrated. But then, in walked Chai Lifeline and their world was made brighter. "It's not about the gifts," says Aviv's mother Paz, "It's about the time. Having people play with him and spend time with him made Aviv feel like a kid again. It made him smile. Chai Lifeline cares. They're family to us."
At first Paz was nervous to send Aviv away to camp for two weeks, but looking back she says it was the best decision she ever made. The friendships he made, and the high-energy vibe of Camp Simcha infused Aviv with laughter and hope, and most importantly nurtured back his childhood. Camp Simcha is truly a magical place.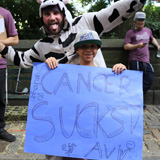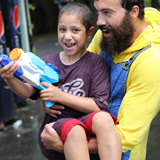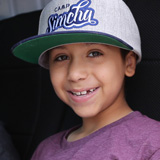 About Aviv
Birthday
: June 26th
Favorite Book
: Harry Potter, of course!
Favorite Animal
: Dogs
Favorite Team
: The Dodgers (and Team Lifeline!!)
Favorite Activity
: Hiking, Bike riding, video games and tennis
Favorite Place
: Camp Simcha!